Regular price
£335.00 GBP
Regular price
Sale price
£335.00 GBP
Unit price
per
Sale
Sold out
Hand-forged Dual-Detente folding knife / O1 Tool Steel Blade with Wrought Iron Bolsters with Scottish Stag Antler Scales / UK Legal Carry

Blade Material: O1 Tool Steel
Handle Material: Scottish Stag Antler with wrought iron bolsters
Blade Length:  74mm
Tang Style: Extended folding tang with scroll
Blade Thickness: 1.5mm
Handle Length: 100mm
Total knife length: 174mm

This knife is a UK legal folding knife that is part of my new range of folders that are a fusion between historical friction folders and modern folders. Whilst still inspired by Anglo-Saxon and Viking age folding knives, these folders have a spring cut-out with ceramic ball bearings inside the the liners. These bearings fall into their detent holes in both the open and closed positions, providing resistance much like a traditional slipjoint. The advantage to this design is that it enables the user to easily open and close the blade with one hand.
This knife is designed for everyday use such as food prep and light woodworking tasks. The O1 tool steel blade has a zero degree scandi grind with a scrolled thumb-tab for easy one-handed operation. The fine edge is perfect for greenwood and for tougher, seasoned woods, the edge can be given a slight microbevel to increase edge retention and durability.

The handle is made from titanium liners with a detent system using ceramic ball bearings to hold the blade in the open and closed positions. The scales are made from Scottish stag antler with wrought iron bolsters, both of which are affixed to the liners with stainless steel pins that have been peined into countersunk holes.

This knife comes with a custom fitted leather pocket-slip that has been hand-sewn with artificial sinew and sealed with a mixture of beeswax and linseed oil.

...


All my knives are forged by hand using traditional bladesmithing methods at Willslock Forge in Staffordshire, England. Each knife has been forged from high carbon steel. I usually use either 1080, 01 or 1095, and sometimes antique historical steels such as crucible steel or shear steel.
I usually forge as close to finish as possible, creating the knife shape and setting the bevels on the anvil. For all of my historical work, my aim is to make my knives with minimal use of power tools, and I take a lot of inspiration from historical knifemaking and smithing techniques.

The handles are all carved by hand and made from locally sourced wood, bone and antler - I avoid using any plastics, resins or synthetic materials.  Wherever I can, I try to repurpose salvaged and upcycled materials in order to create beautiful new knives and tools.  I usually leave a brut de forge, or forge finish, on most of my blades because I like that the hammer marks tell the story of the knife's creation on the anvil, and the forge finish differentiates the knife from all the mass-produced, factory made knives out there.
Shipping & Returns

All bladed items will be send with Royal Mail 48hr Delivery with Age Verification.

International orders will be sent with UPS.
Care Instructions

In order to keep your blade in top working condition make sure to wipe & dry after use and occasionally apply mineral oil to protect the steel/iron. The wood and leather can
Share
View full details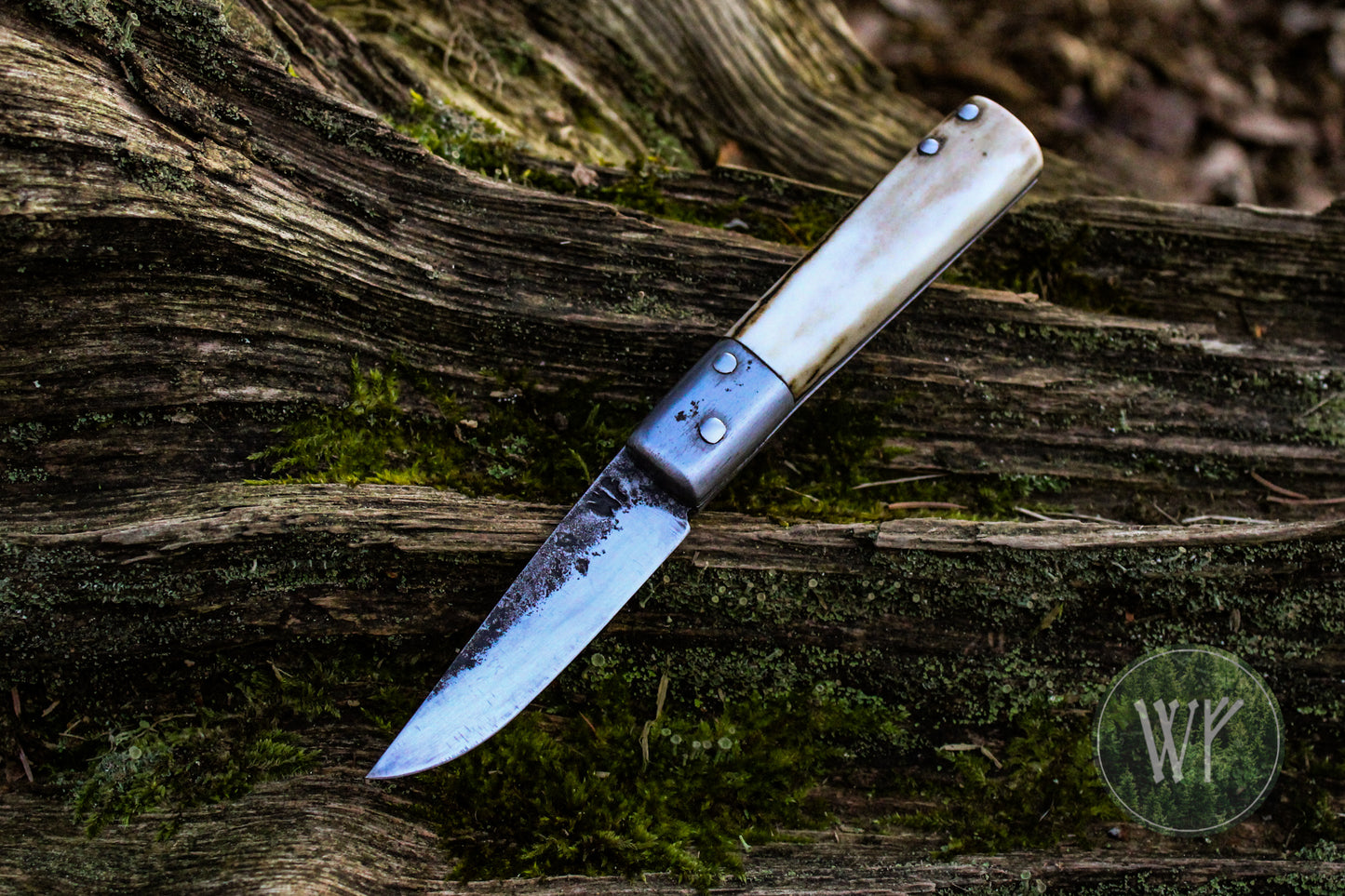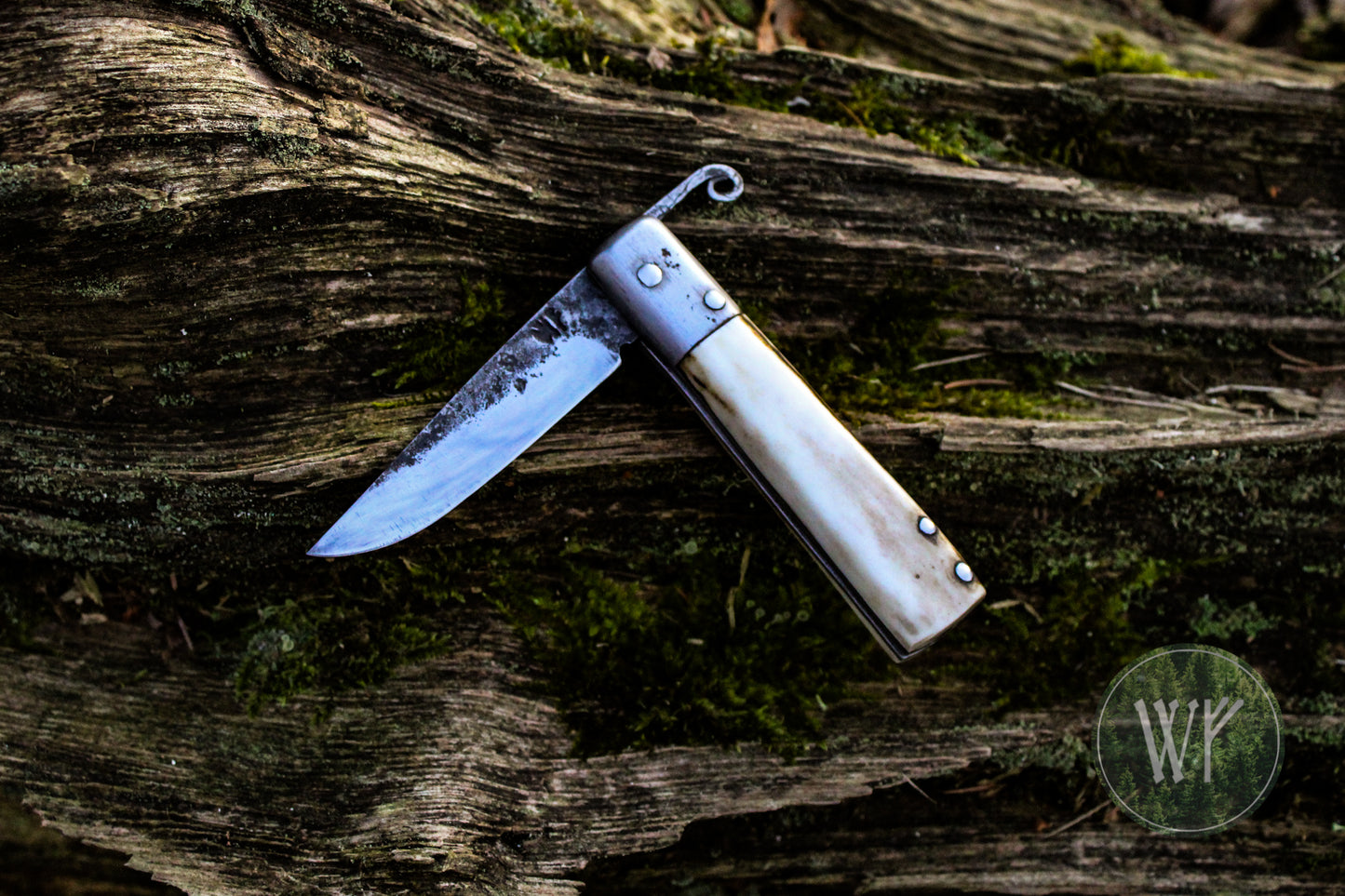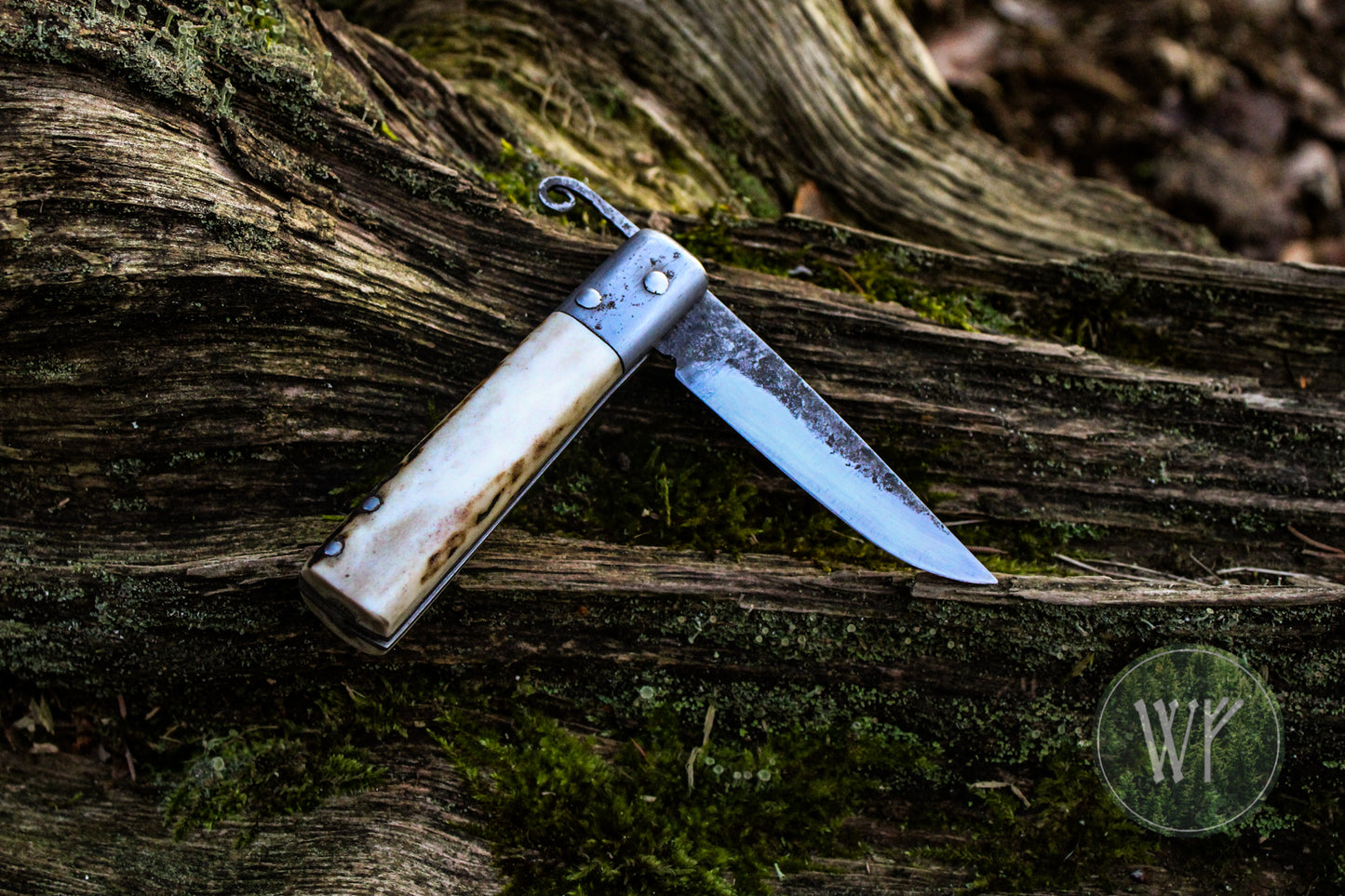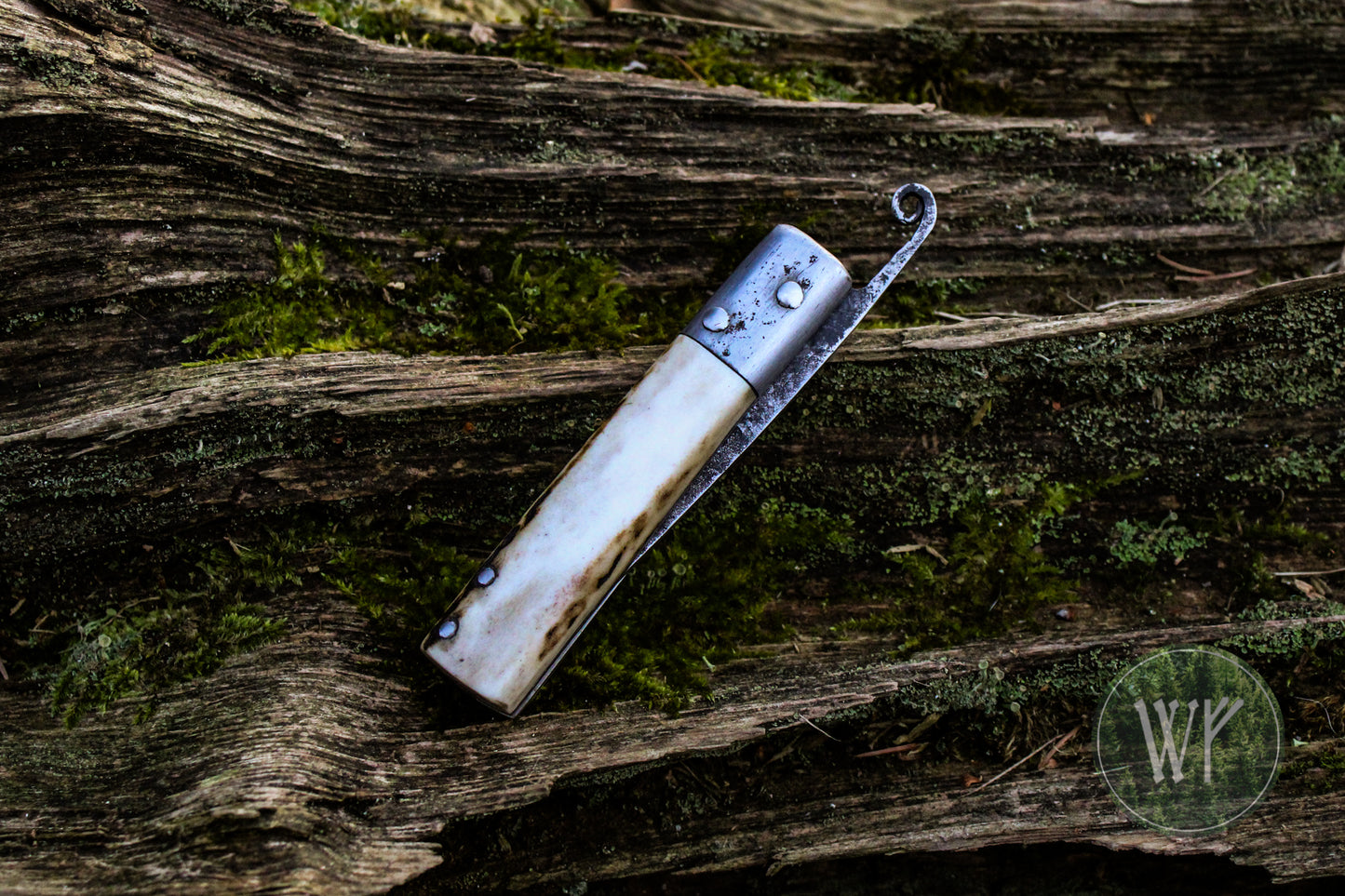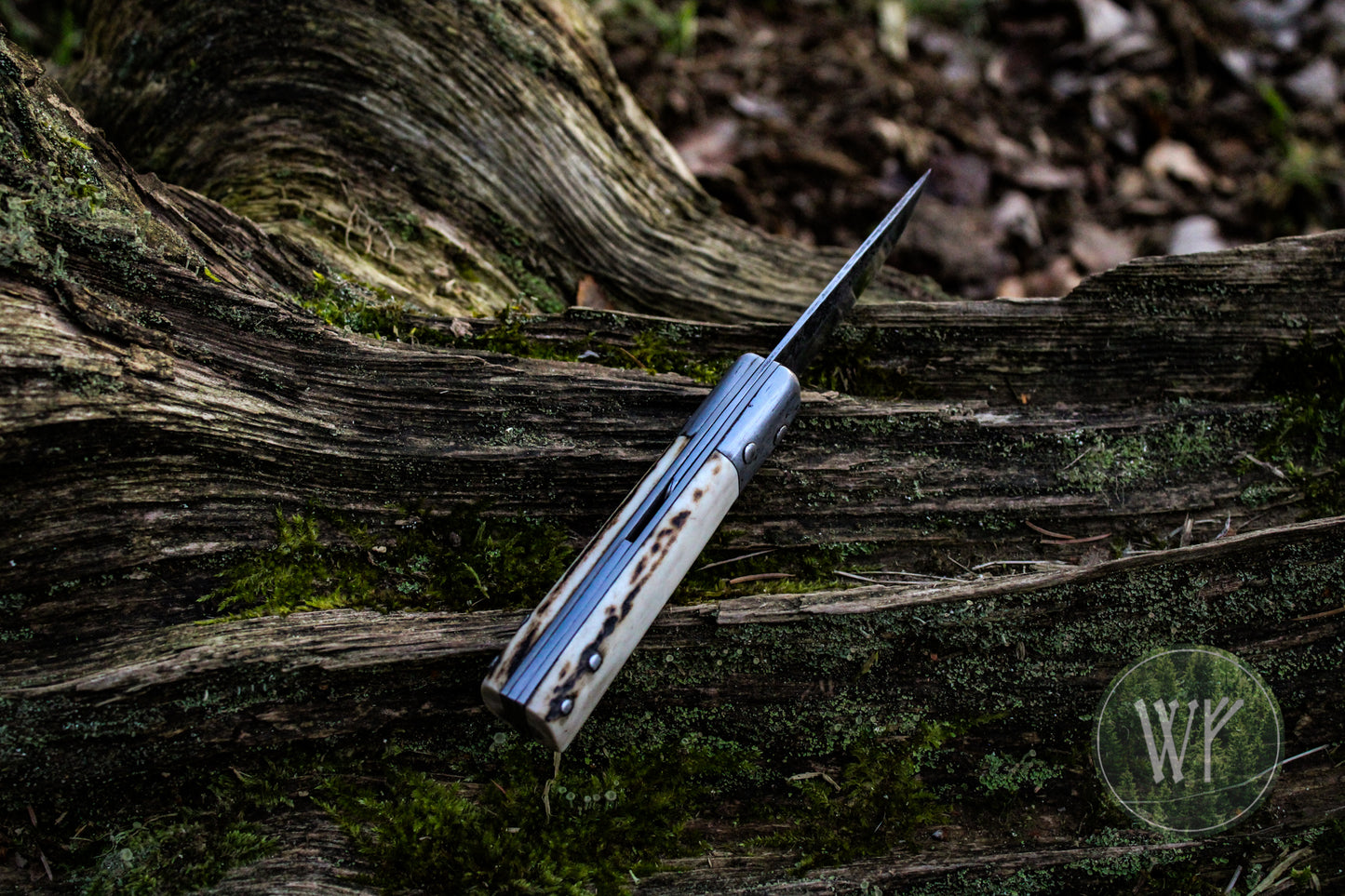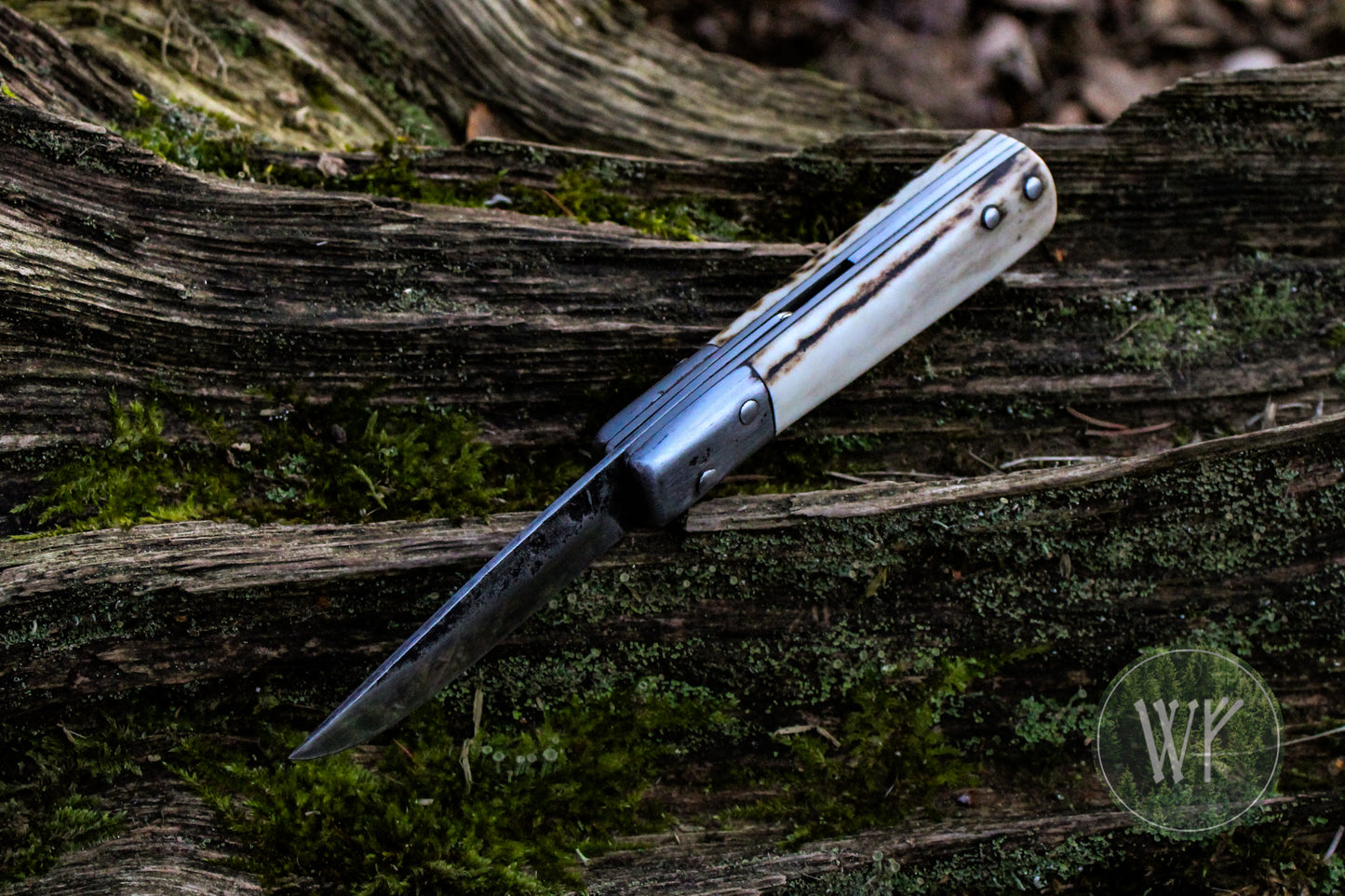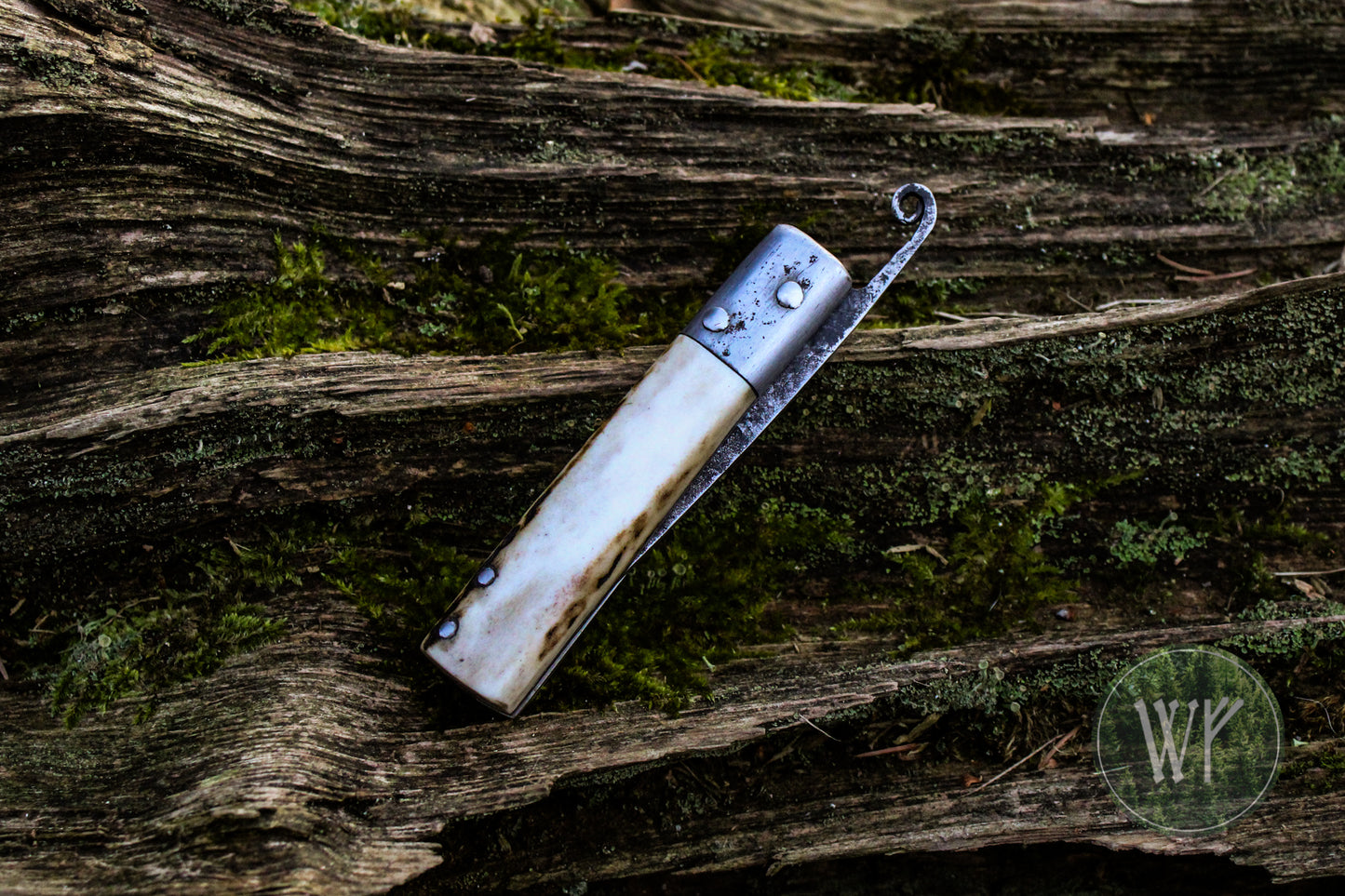 Age Verification (18+ ONLY)

As per the UK Offensive Weapons Act 2019 all knife purchases must be age verified before the item can be dispatched. Photo ID is required to confirm that the customer is above 18 years of age. All bladed items will also be sent with Royal Mail Age Verified Service.

Return Policy

If your items are damaged or faulty upon receipt you must notify me within seven days so I can arrange a repair or replacement.

You have the right to return faulty items for a full refund, including postage, within a seven day period.

Notification of return of item(s) must be made by phone or email within seven days of receipt of the item(s).

All items must be returned in an unused condition, well packaged and sent using an insured trackable postage method with a copy of the relevant receipt.

Return postage will not be refunded if the goods are
not faulty.

If the item is damaged or has been used I reserve the right to make a charge for the damage or repair.