Regular price
$292.00 USD
Regular price
Sale price
$292.00 USD
Unit price
per
Sale
Sold out
Historical reproduction of Viking age Mästermyr Knife. Hand forged from Bloomery Steel with Spalted Ash handle

Blade Material: Tudor period Bloomery Steel (approx. date 1640)
Handle Material: Spalted Ash
Blade Length: 62mm
Tang Style: Full hidden tang
Blade Thickness: 5mm
Handle Length: 112mm
Total knife length: 175mm

This knife is a historical reproduction of the knife from the Mästermyr find, a viking age toolbox found in Gotland. Using the scale diagrams and photos from the book The Mästermyr Find, I have made this knife as historically accurate as possible.  The blade was forged to the same profile and dimensions as the original, using historical bloom steel that was reclaimed from steel window bars from a Tudor building constructed in 1640.

In accordance with historical examples of Viking age knives, the blade has a very thick spine (5mm) with a triangular V shape taper to the cutting edge. The blade has been lightly etched to reveal the longitudinal striations of the different layers from the original forging/folding process in the bloom steel. It has a traditional full hidden tang construction, with the tang burnt through the wood for a friction fit and hammered over at the end to act as a lanyard loop for ease of removing from the sheath. No modern epoxies or glues have been used. The handle is made from ash because although the original knife had no traces of a handle, the majority of the surviving tool handles in the Mästermyr tool chest were also from ash.

After being carved into shape, the handle has been hand-sanded and rubbed with several coats of boiled linseed oil to protect the wood. The wood has then been sealed and waterproofed with a layer of beeswax from our own apiaries.

This knife comes with a tooled Viking-style sheath made from thick veg-tan cow leather, hand-sewn with artificial sinew, and sealed with beeswax and linseed oil.

...

All my knives are forged by hand using traditional blacksmithing methods at Willslock Forge in Staffordshire, England. Each knife has been forged from high carbon steel. I usually use either 1080, 01 or 1095, and sometimes antique historical steels such as crucible steel or shear steel. I forge as close to finish as possible, creating the knife shape and setting the bevels on the anvil. My aim is to make my knives with minimal use of power tools, and I take a lot of inspiration from historical knives and smithing techniques. After the initial forging, I use files to shape the bevels. Once the blade is about 80% sharpened, it goes back into the forge for the heat treatment, where it is hardened and tempered to give the steel maximum strength and durability.  The blades are then cleaned, given their final sharpen using whetstones, hand sanded and polished up.

The handles are all carved by hand and made from locally sourced wood, bone and antler - I avoid using any plastics, resins or synthetic materials. Wherever I can, I try to repurpose salvaged and upcycled materials in order to create beautiful new knives and tools.  I usually leave a brut de forge, or forge finish, on most of my blades because I like that the hammer marks tell the story of the knife's creation on the anvil, and the forge finish differentiates the knife from all the mass-produced, factory made knives out there.
Shipping & Returns

All bladed items will be send with Royal Mail 48hr Delivery with Age Verification.

International orders will be sent with UPS.
Care Instructions

In order to keep your blade in top working condition make sure to wipe & dry after use and occasionally apply mineral oil to protect the steel/iron. The wood and leather can
Share
View full details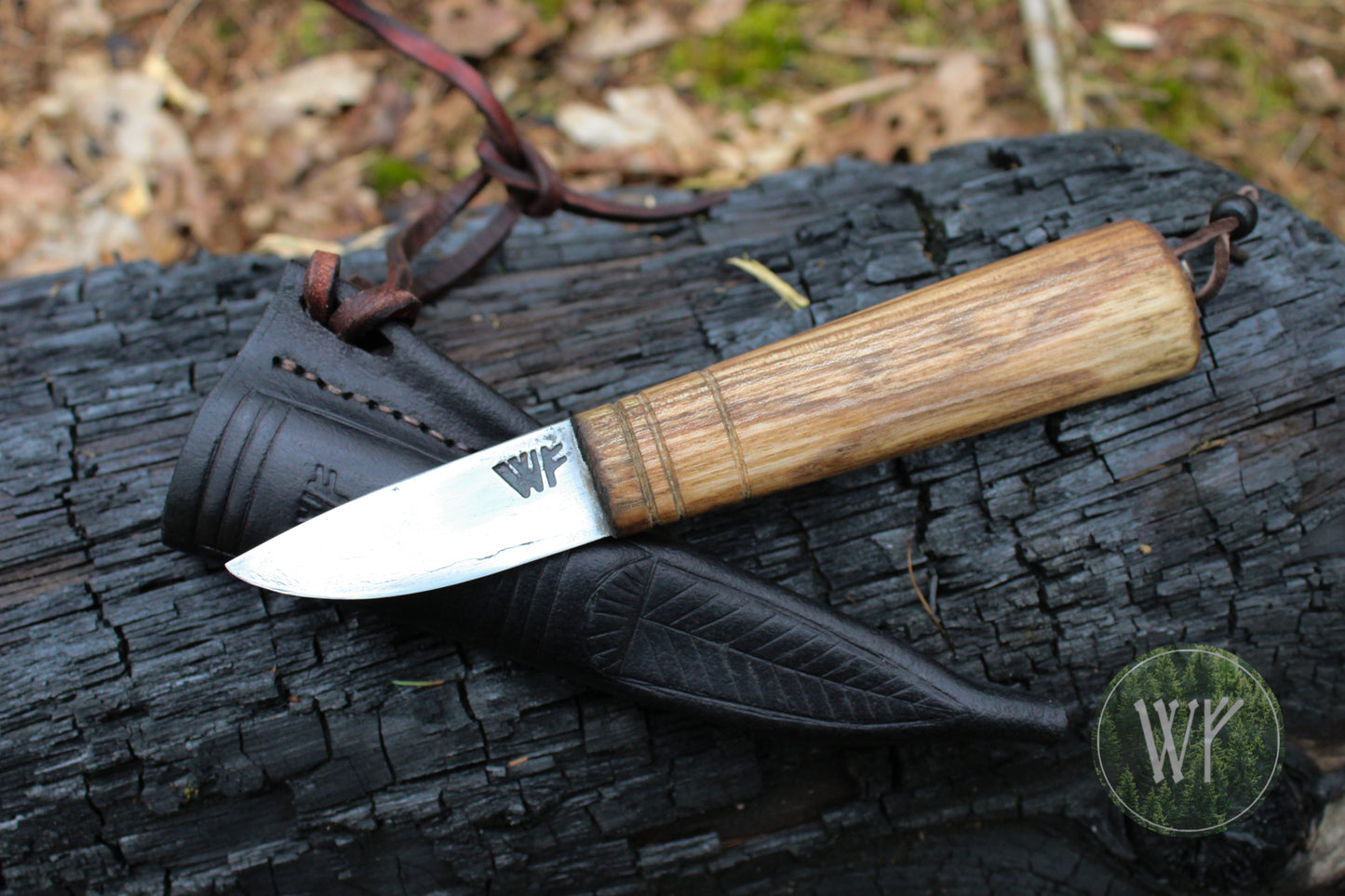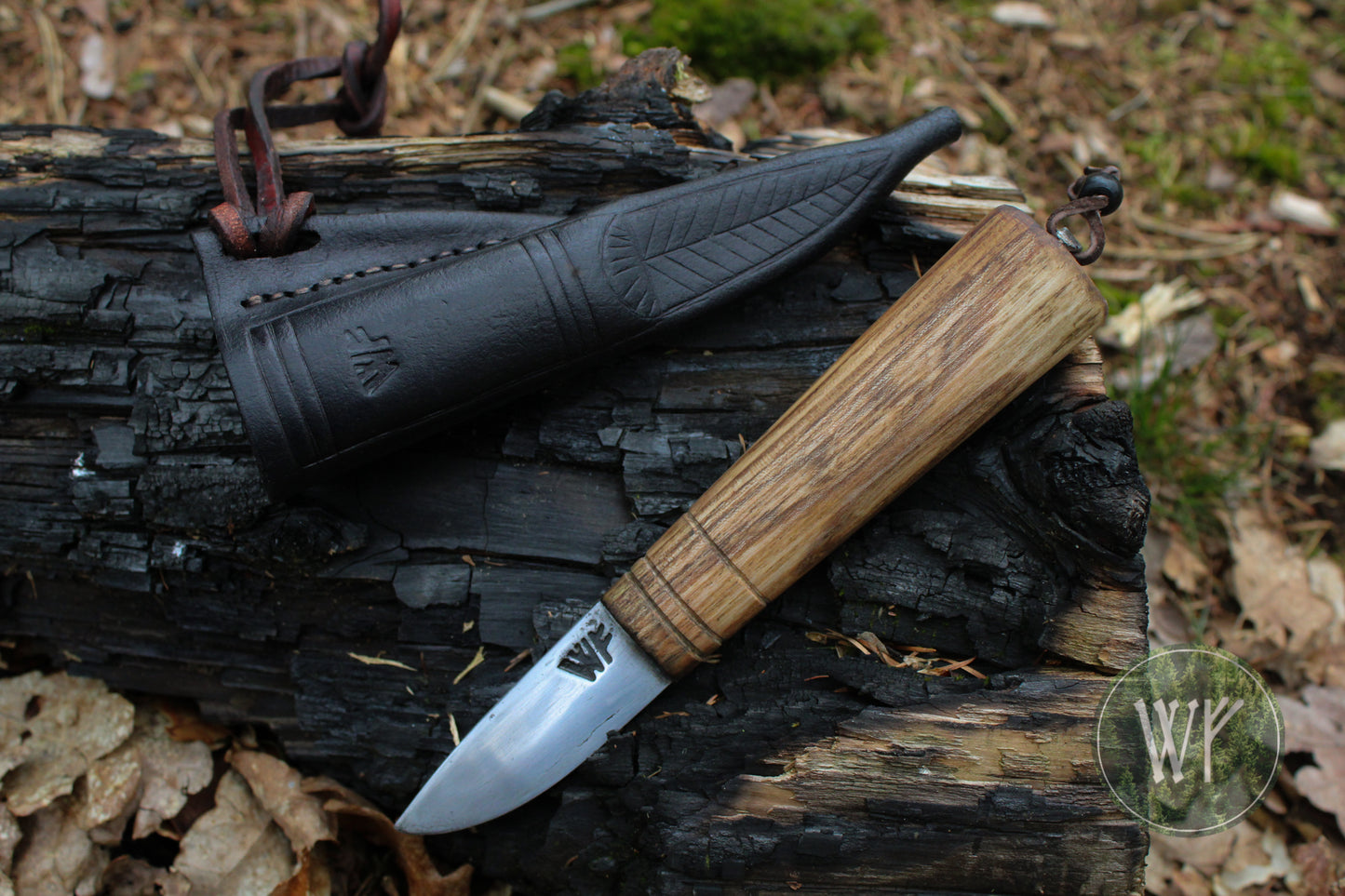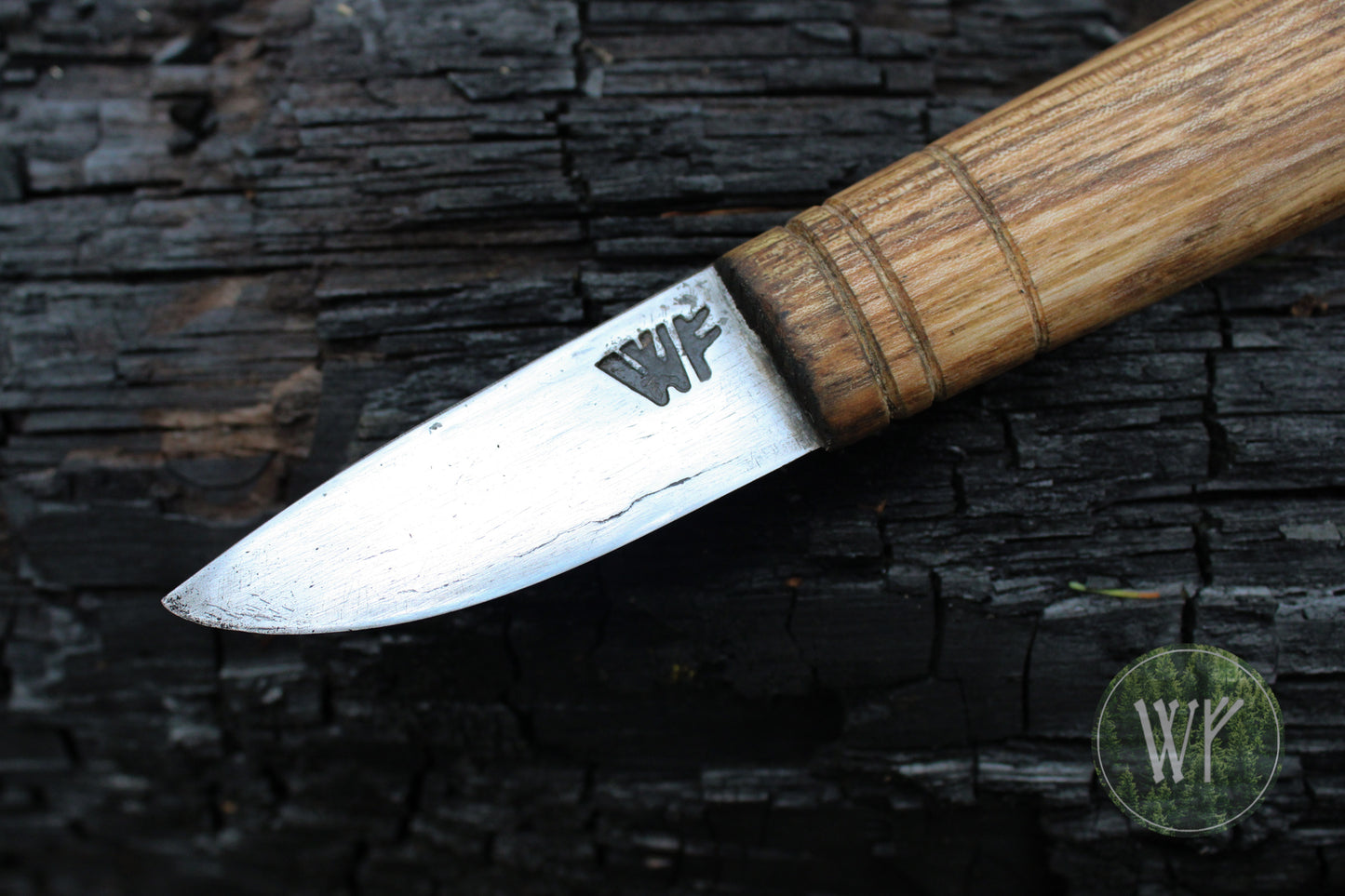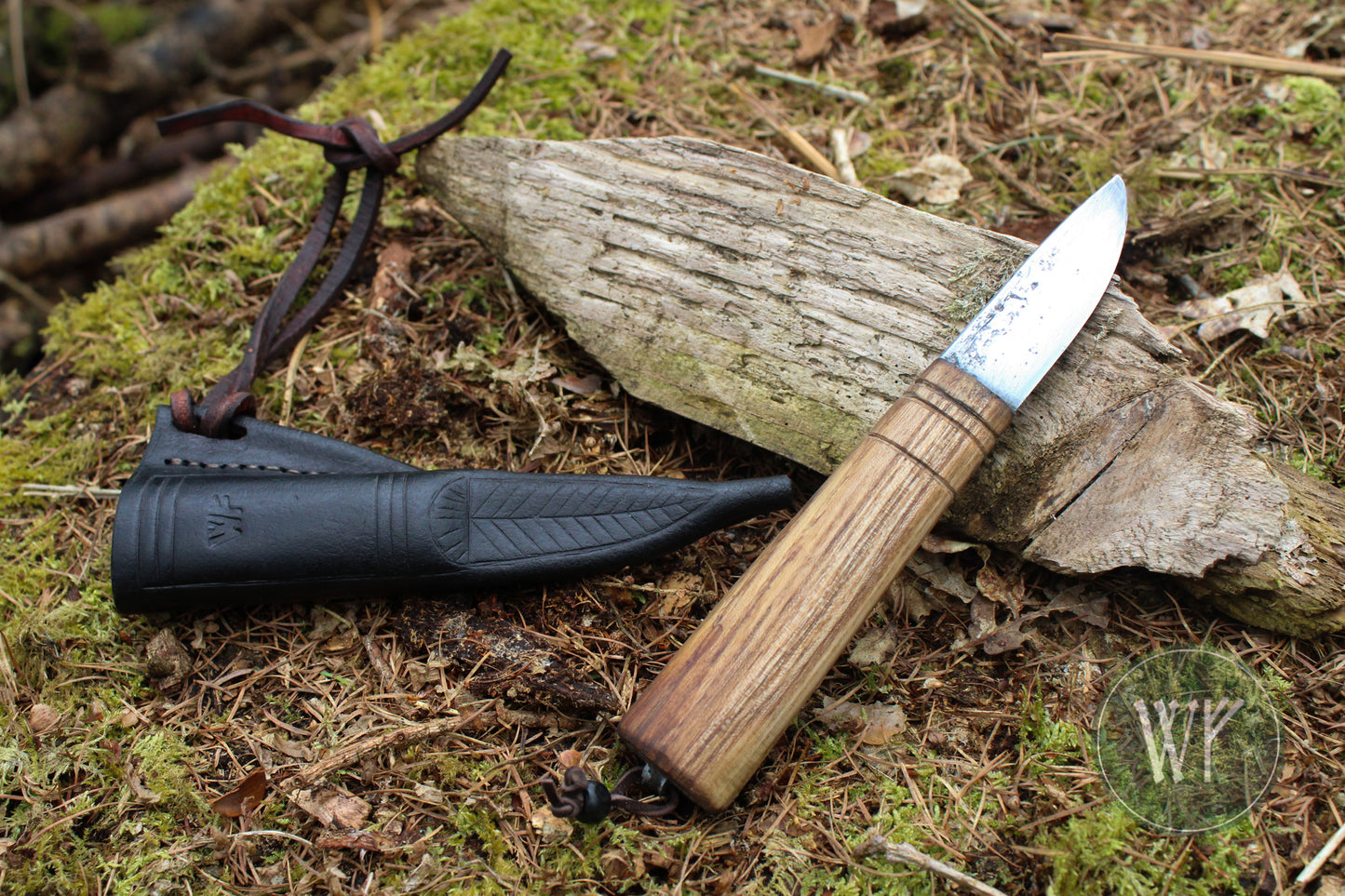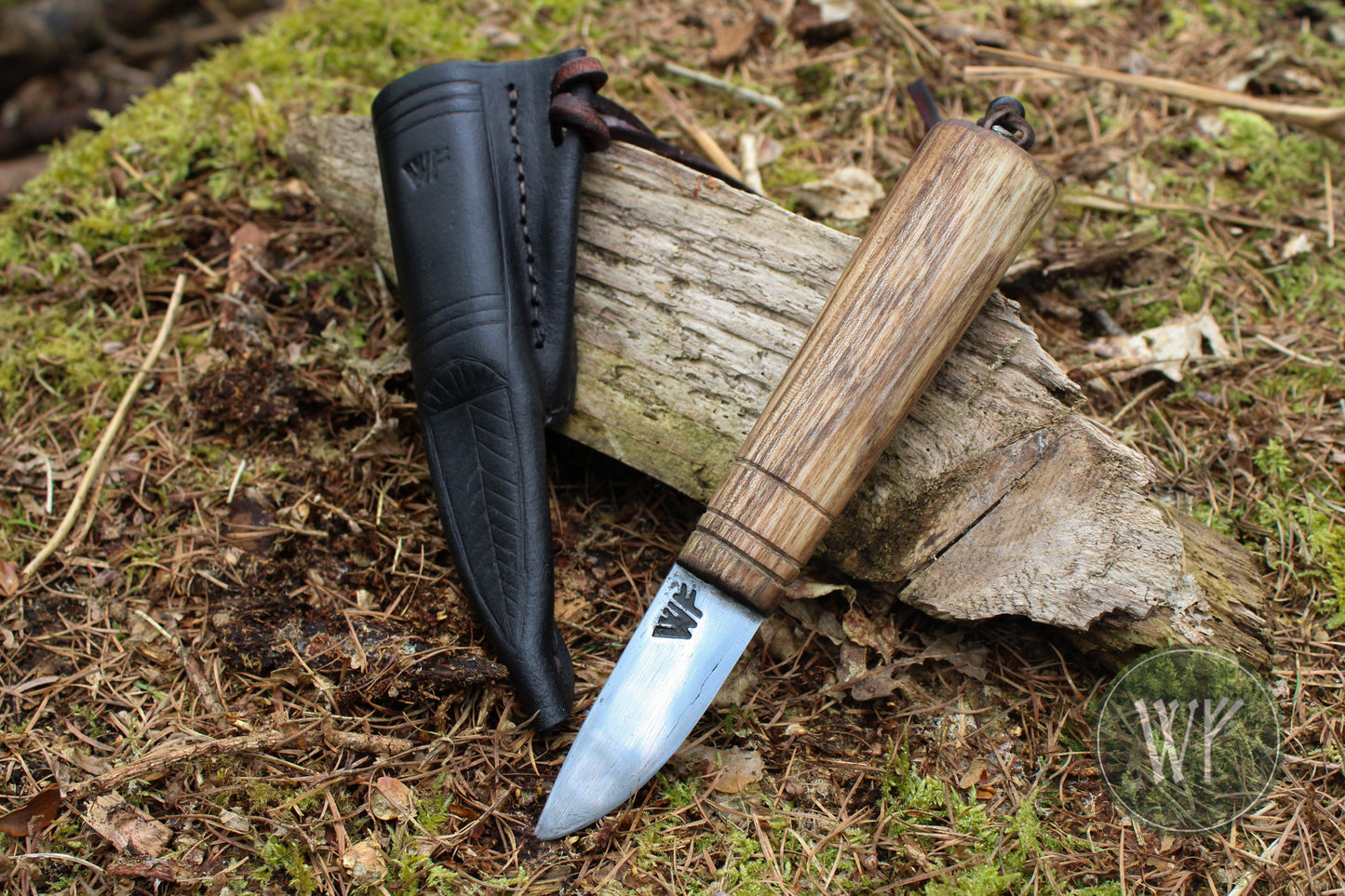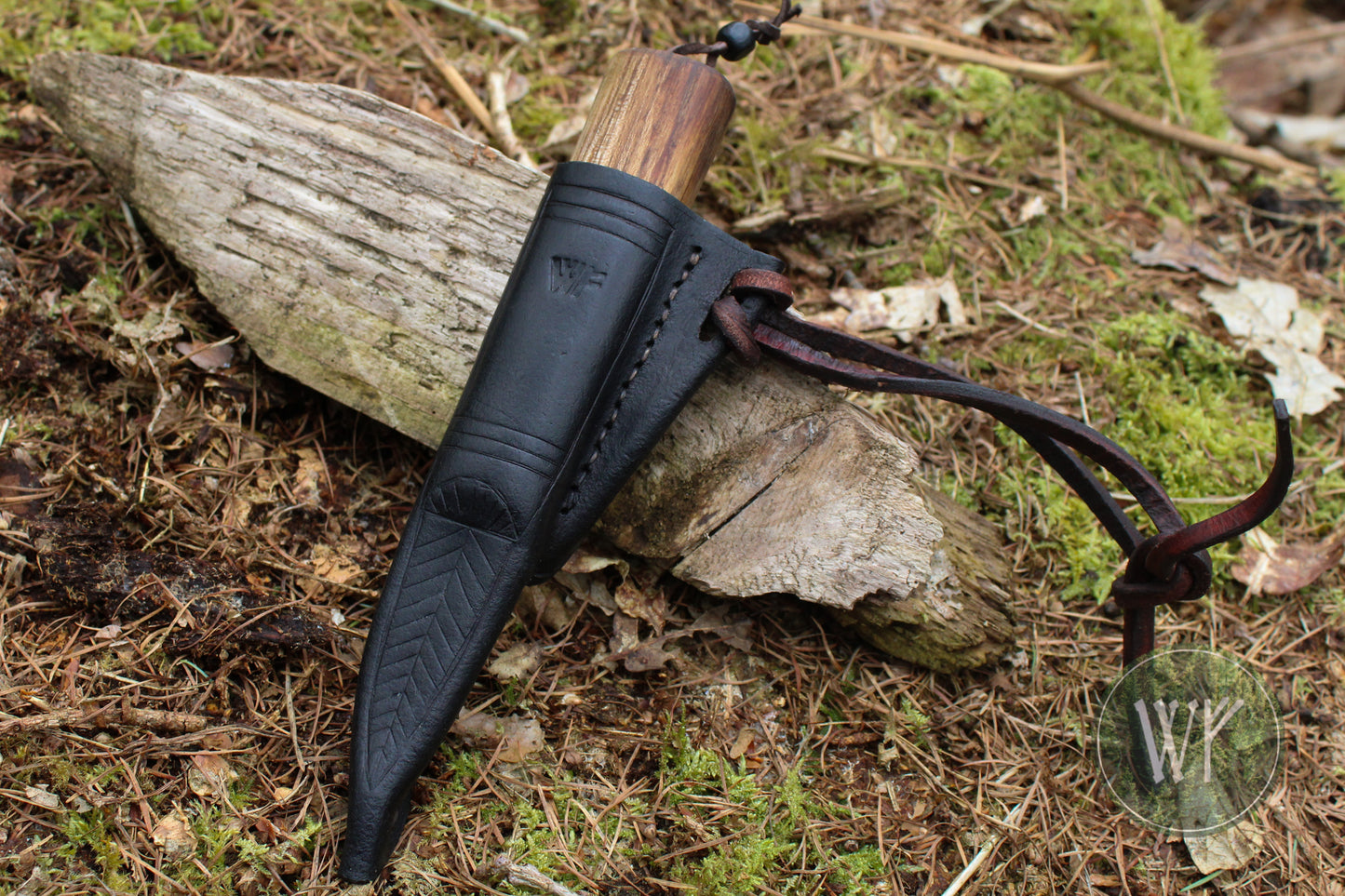 Age Verification (18+ ONLY)

As per the UK Offensive Weapons Act 2019 all knife purchases must be age verified before the item can be dispatched. Photo ID is required to confirm that the customer is above 18 years of age. All bladed items will also be sent with Royal Mail Age Verified Service.

Return Policy

If your items are damaged or faulty upon receipt you must notify me within seven days so I can arrange a repair or replacement.

You have the right to return faulty items for a full refund, including postage, within a seven day period.

Notification of return of item(s) must be made by phone or email within seven days of receipt of the item(s).

All items must be returned in an unused condition, well packaged and sent using an insured trackable postage method with a copy of the relevant receipt.

Return postage will not be refunded if the goods are
not faulty.

If the item is damaged or has been used I reserve the right to make a charge for the damage or repair.